Local Sea Level Projections
Oceanic processes and local effects as land subsidence lead to substantial regional differences in sea level projections. This website allows you to browse local sea level projections provided by Robert Kopp et al. (2014).

You can also select a tide gauged station on the zoomable map.
At locations where no tide gauged station is available, gridded sea level projections can be selected (yellow squares). Gridded sea level projections come with substantially higher uncertainities. Therefore, we strongly recommend to use projections for tide gauged stations whenever this is possible!
Sea level projections are presented for three emission scenarios:
A scenario compatible with the Paris Agreement (RCP26)
A scenario reaching +2.5°C at the end of the century (RCP45)
A scenario exceeding +4°C at the end of the century (RCP85)
Allthough these emission scenarios are different from 2006 onwards, differences in sea level rise only become apparent in the second half of the 21st century. This is due to the slow and time-lagged response of sea levels to greenhouse gas forcings.
References
Kopp R E, Horton R M, Little C M, Mitrovica J X, Oppenheimer M, Rasmussen D J, Strauss B H and Tebaldi C 2014 Earth's Future Probabilistic 21st and 22nd century sea-level projections at a global network of tide-gauge sites Earth's Future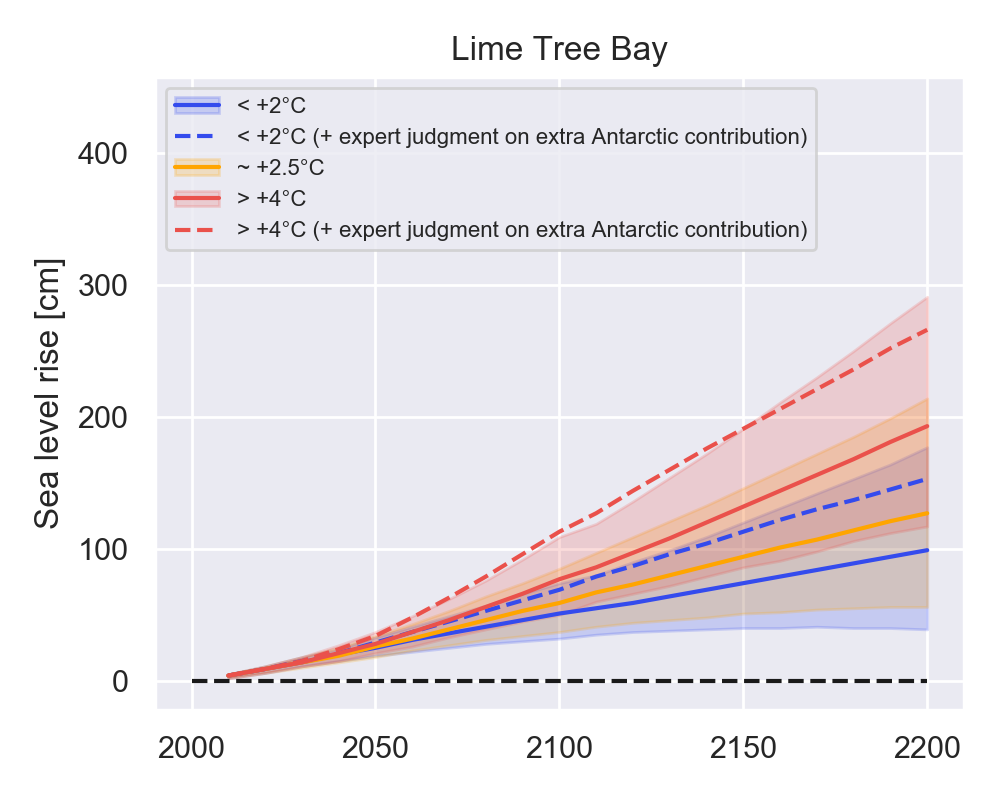 Local sea level projections for Lime Tree Bay for a scenario compatible with the Paris agreement (green), a scenario leading to +2.5°C global mean temperature (orange) and a scenario exceeding +4°C (red). The solid lines represent multi-model medians, the shaded areas include 66% of the models.
Local Sea Level Rise [cm]

decade
median
uncertainty ranges
66%
90%
2030

14

14

14

11-18

10-18

11-18

8-21

8-21

8-21

2050

25

26

28

19-33

18-34

21-37

15-39

13-41

16-45

2100

51

59

77

32-74

37-85

50-109

21-100

23-111

32-141

2150

74

94

132

40-120

51-146

86-191

22-173

26-202

59-253

2200

99

127

193

39-177

56-214

117-291

10-276

18-313

77-402
Local sea level projections for Lime Tree Bay as in the above figure listed for some selected decades. The first column shows the multi-model median projections (solid line of the figure), columns 2 shows the 66% uncertainty range (shaded area in the figure), column 3 shows the 90% uncertainty range, and column 4 shows the upper limit defined as the 99th percentile of the ensemble projections. As in the figure, the Paris-compatible scenario is shown in green, the +2.5°C scenario in orange and the above +4°C scenario in red.
Contributions to local sea level rise
The contributing components modelled by Robert Kopp et al. (2014) are:
Antarctic and Greenland ice sheets (AIS & GIS) based on IPCC AR5 and expert elicitation, glacier and ice caps (GIC) based on an improvement of the IPCC AR5 method, oceanic processes (ocean) including thermal expansion and dynamic effects taken from CMIP5 simulations, land water storage (LWS) taking into account changes in population, and all non-climatic contributions combined into background effects (Bkgd).
Show source of variance for: